Former PhD candidate. Now at Profit Nederland.
Research
The goal of my project is to obtain the most accurate visualization possible of the blood-flow in the aorta for a given patient.
By combining PC-MRI flow measurements and fluid simulations the benefits and drawbacks of both approaches could be optimized. For example, physical simulations are hard to make patient specific due to being a model, and thus an approximation, of the real patient. Measurements on the other hand are prone to noise and artefacts, unlike physical simulations.
Key topics include:
Validation:
Validation of any obtained blood-flow data is difficult due to the lack of a ground truth.
Noise and artefacts estimation:
An estimate of the noise and artefacts can provide more insight in the data.
Uncertainty visualization:
Uncertainty visualization is needed to understand the effects of the noise and artefacts on the data.
Data assimilation:
Using data assimilation it is possible to obtain a best estimate of the "true state" combining both measurements and simulations.
Available Master Thesis Projects
If you're interested in working with me for your master thesis project, please contact Dr. A. Vilanova to discuss the possibilities.
Publications
Publications in 2020

PC-MRI Blood-Flow measurements: Visualization and Data Assimilation

PhD thesis from TU Delft - ASCI - Sep 2020
Publications in 2019

InkVis: A High-Particle-Count Approach for Visualization of Phase-Contrast Magnetic Resonance Imaging Data

Eurographics Workshop on Visual Computing for Biology and Medicin - 2019
Publications in 2018

Presence of aortic root vortex formation after TAVI with CENTERA confrmed using 4D-flow magnetic resonance imaging

The International Journal of Cardiovascular Imaging - aug 2018
Publications in 2017

EuroVis Workshop on Reproducibility, Verification, and Validation in Visualization (EuroRV3), page 25--28 - jun 2017
Publications in 2016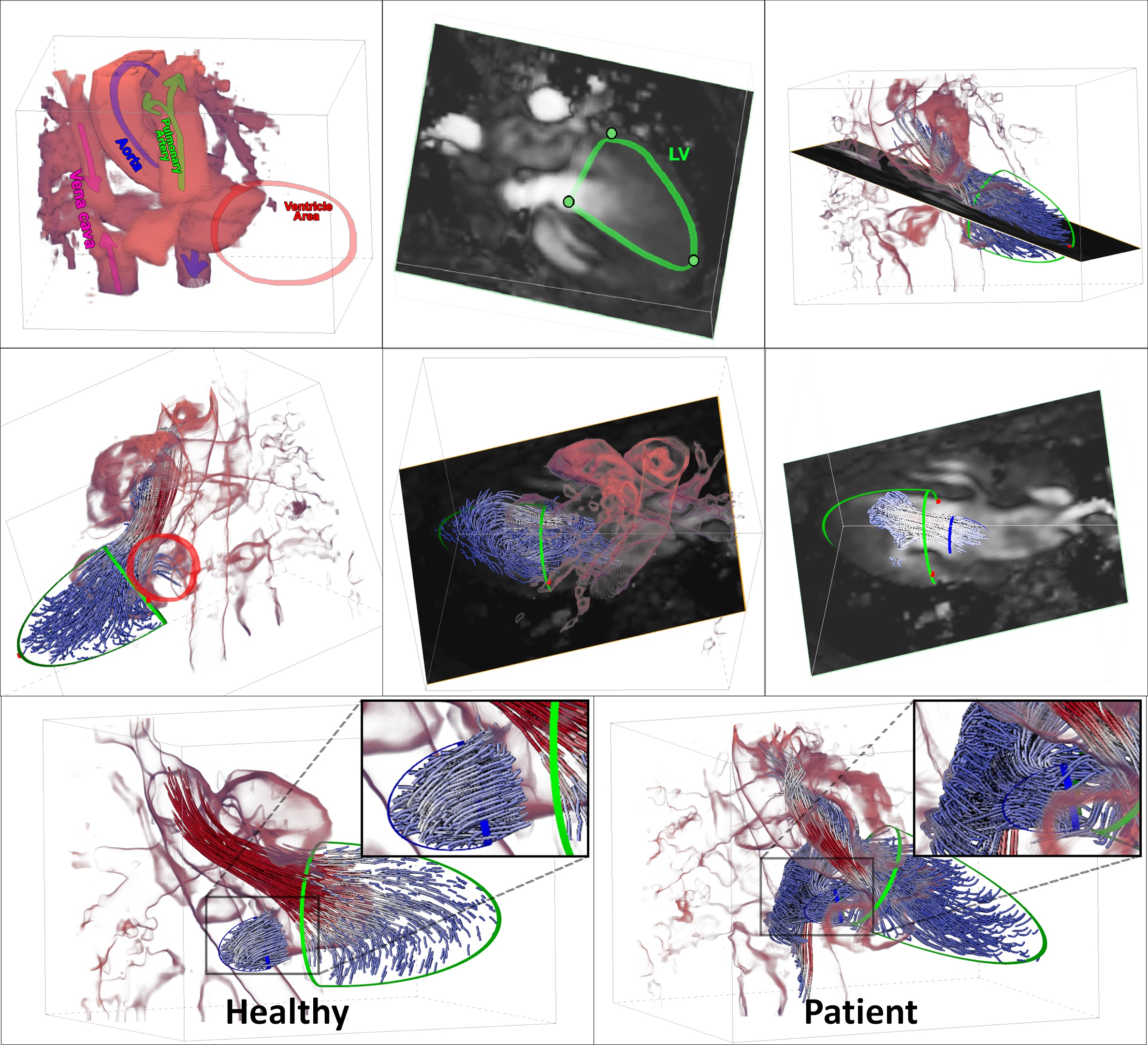 VCBM 16: Eurographics Workshop on Visual Computing for Biology and Medicine - sep 2016
---

VCBM 16: Eurographics Workshop on Visual Computing for Biology and Medicine - sep 2016
Publications in 2014

4D MRI flow coupled to physics-based fluid simulation for blood-flow visualization

Computer Graphics Forum, Volume 33, Number 3, page 121--130 - 2014
---
Master thesis
Cardiovascular blood flow – Comparing measurement and simulation [pdf]
Supervisors:
R. van Pelt, A. Jalba, Dr. A. Vilanova